I've blogged about this before, but I wanted to revisit because FiveThirtyEight, whom I love and adore, just posted about it again, in light of the recent Theranos problems.
My last blog post was long, so let me simplify my position… there's a big graphic in the middle of the FiveThirtyEight article: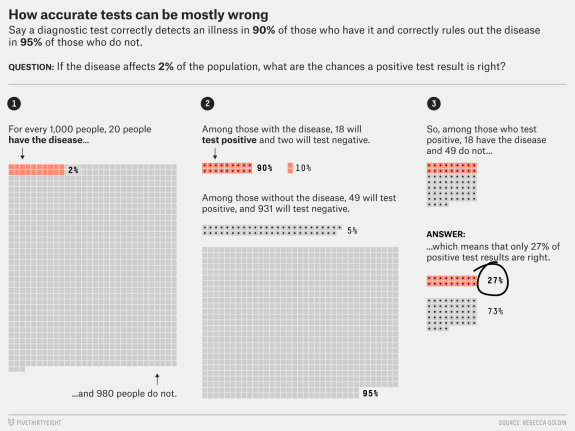 And it's fine, it's very simple, very accurate math, EXCEPT, it only deals with the case where each person takes exactly one test.  This isn't FiveThirtyEight's fault, they borrowed a common example, and that example is what most medical research is based on… see the flow chart in my last post… you take blood, you look for things, and you (doctors and patients) react to what you find.
This is NOT the best way forward if cheap reapeatable tests become available.   It's not: test, react, test, react, test, react – which I agree leads to over-reactive medicine.  It's: test, test, test, react, which I'm arguing will reduce over-reaction (but I admit may not be for the feint of heart). Continue reading →